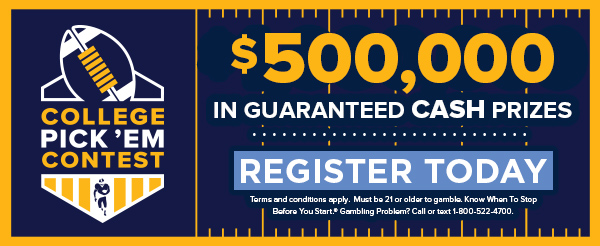 2022 COLLEGE PICK'EM FOOTBALL CONTEST
Returning for the 2022 season is the 2022 College Pick 'em contest – Nevada's premier college football handicapping contest!
The contest costs $1,000 to enter, and each player can have up to five (5) entries. Each week, pick eight (8) College Football games against the spread off of a designated menu of eligible games for chance at winning a share of $500,000 in guaranteed cash prizes.
Contest Period: Saturday, September 10, 2022 – Saturday, November 12, 2022 (Subject to Change)
Minimum of 8 weeks must be completed before Monday, December 26, 2022 to be official
Registration starts Friday, July 15, 2022
CONTEST ENTRIES WILL NOT BE ACCEPTED AFTER 8:00 A.M. (PT) ON SATURDAY, SEPTEMBER 10, 2022 of the College Football Pick'em Contest Week 1 (Subject to Change)
Pick 8 winners each week against the spread (1/2 point spread)
$1,000 season entry fee – 10 weeks
$500,000 in guaranteed cash prizes!
Entering the William Hill College Pick'em with us as your proxy is as easy as 1, 2, 3!
Sign up at any William Hill sportsbook location (we do NOT need to be present with you)
Email us your entry number(s)
Pay us the proxy fee online!
For more info, click here for official prize payouts and rules. If you are outside the state of Nevada, you will need to sign up in person and then use a proxy to submit picks for you.